📰 The exciting month of May came to a close with a series of NTQ Solution strategic domestic and international events. Let's take a look back at the TOP 🔟 NTQ Solution outstanding events of May.
1. A brand new look of NTQ Japan office.
With the business philosophy of sustainable development, NTQ Japan always invests in developing human resources, attracting talented young generations, and especially to constantly upgrade the professional working environment. Recently, NTQ Japan officially welcomed a new working area, to the excitement of all members, after months of office refurbishment. The new office is designed in a white color scheme, which is a unique combination of Japanese minimalism and Vietnamese national identity, delivering a sense of comfort, friendliness, and professionalism. 
 It might be claimed that the new look of the NTQ Japan office is a promising start for the NTQ Solution's aggressive transformation in the future. A new working space, hopefully, will provide members with new sources of energy and inspiration to continue delivering high-quality services to NTQ's clients, and contributing to NTQ's future development.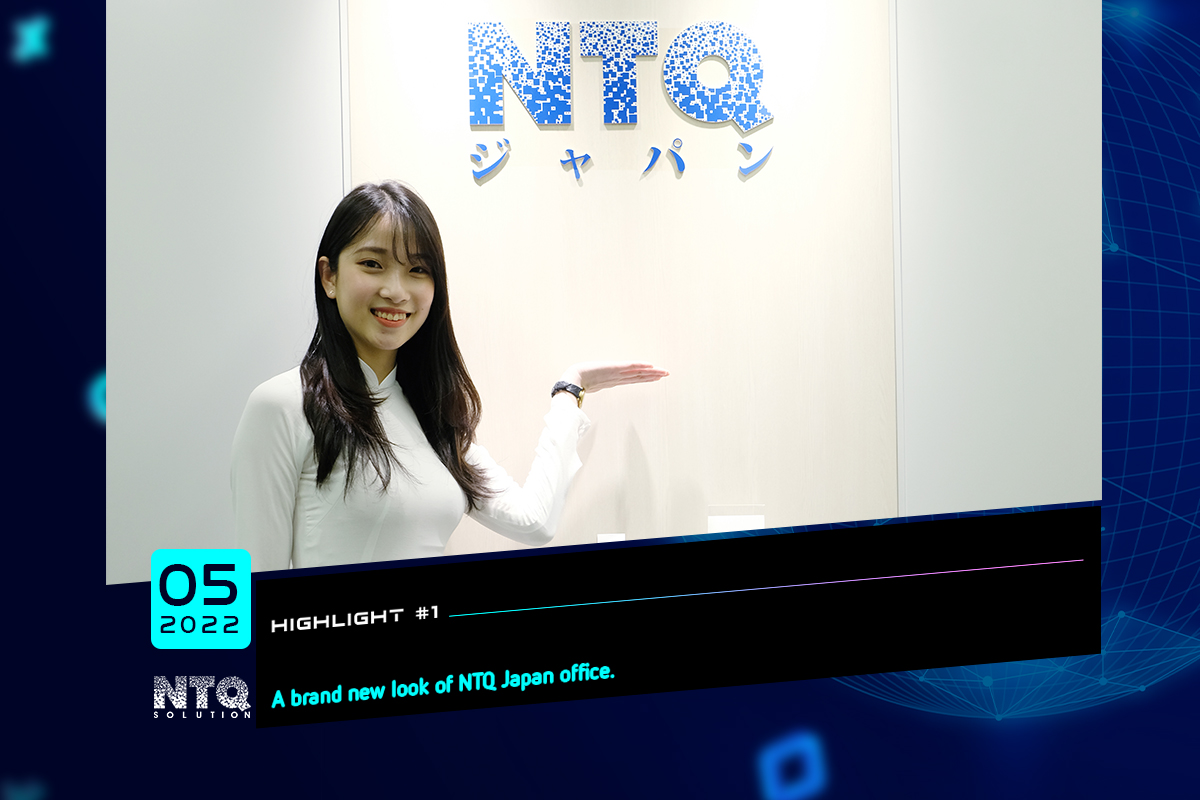 2. NTQ Solution's "Make-in-Vietnam"  AI solutions and technologies services created a great impression at Japan's largest AI technology exhibition.
AI EXPO TOKYO - Japan's largest AI technology expo has come to a close with the involvement of hundreds of businesses as AI Technology pioneering representatives after three days of the organization (May 11-13, 2022). At this event, NTQ Japan introduced the most advanced AI solutions of NTQ Solution, including: AI application and integration solutions in digital transformation,  NTQ's "Make-in-Vietnam" products: enKomm, iLuton, EZPlastic, etc.
The creative and flexible AI solutions that NTQ Solution has used in prior projects piqued the curiosity of over 600 firms at the event. Some of NTQ Solution's AI-integrated solutions for businesses which are applications in the fields of Computer Vision and Natural language generation have received many invitations for cooperation from customers. Thanks to its unique features that reduce time&costs and optimize operations, Japanese enterprises prefer NTQ Solution's "Make-in-Vietnam'' product line as the "Solution of the Future''.
Thank you to all of our beloved customers who came to support NTQ Solution during the exhibition.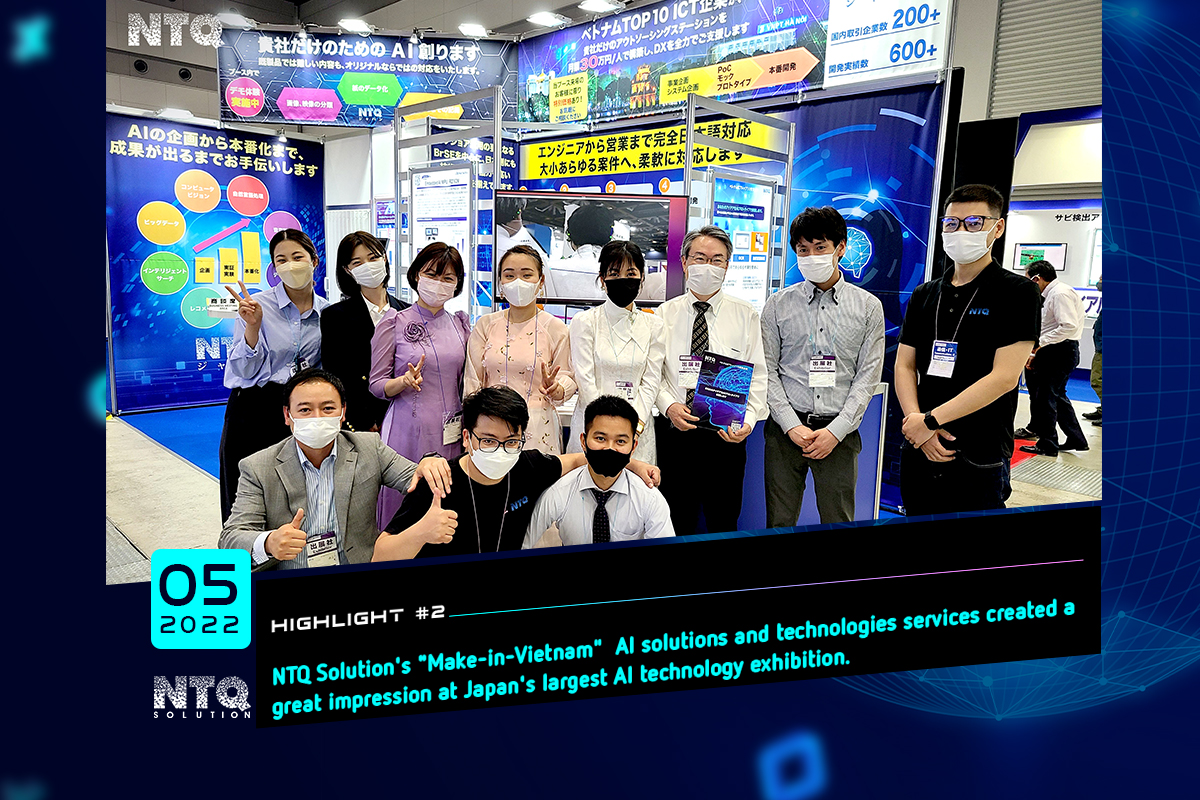 3. The NTQ Japan's AI technology seminar: AI in Production - Project flow, Challenges, and Prospects.
 NTQ Japan successfully hosted an intensive AI technology seminar on May 17, 2022, titled "AI in Production - Project Flow, Challenges, and Prospects''. At the seminar, Mr. Bui Viet An - Leader of the AI Department, NTQ Solution JSC, shared about the incredible development speed of AI and the significant difficulties that businesses will encounter while implementing AI in digital transformation. Mr. An supported businesses in defining the basic lifecycle of an AI project, as well as the key points at each stage, from the Scoping Stage, Data Stage, Modeling Stage, to Deployment and Maintenance Stage. 
Faced with the burning of digital transformation and AI technology, this seminar provides an opportunity for NTQ Solution to approach our client's problems in order to give greater value through consulting services and digital transformation solutions. This is also a significant milestone in the journey of affirming NTQ Solution's AI-intensive technological capabilities internationally, demonstrating the company's ambition of focusing on creating new technologies, particularly in the field of AI, toward becoming a global SI company.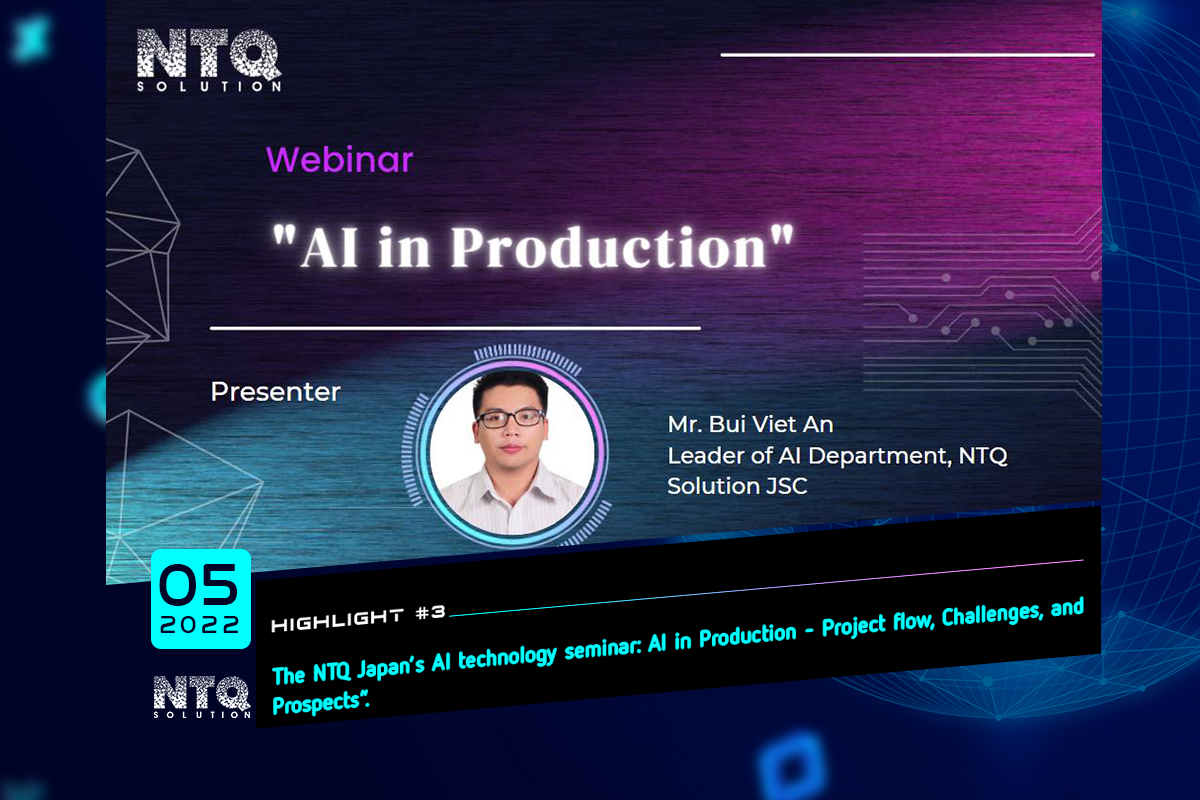 4.  The annual health check program 2022 - Caring for NTQ-ers' health is always the top priority of NTQ Solution. 
The annual health check program is one of the most important activities of NTQ Solution. This demonstrates the care of NTQ-ers and ensures the response of strong human resources with both physical and mental strength.
This year, the 2022 annual health check program at NTQ Solution has updated many new examination contents to match the context and needs of employees. In Particular, the after-Covid examination was upgraded, including lung damage, liver, nutritional status assessment, etc. This is NTQ Solution's effort in creating a professional working environment with benefits for all members. Hopefully while working at NTQ Solution, NTQ-ers would always feel safe and have the finest health possible!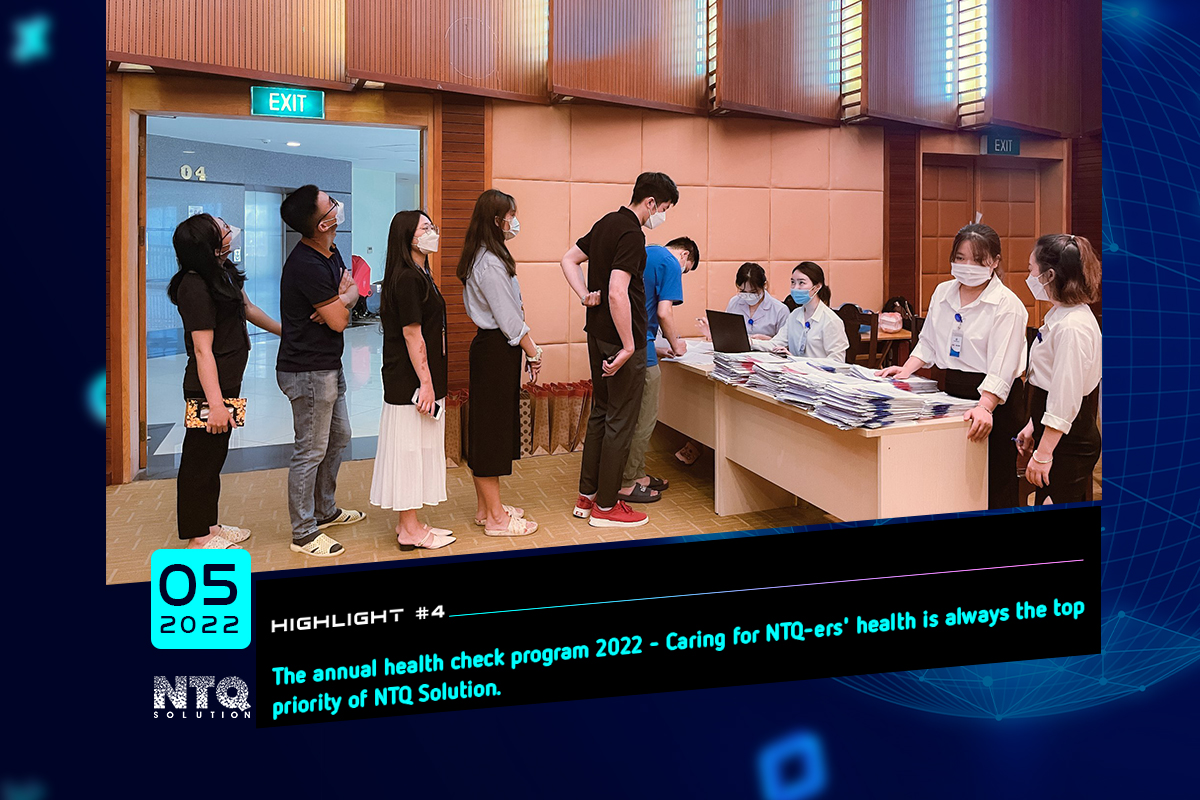 5. DentalFlow reveals the method for addressing complex challenges in the dental clinic management on  Hanoi Radio - Television Station channel HTV1.
The severe rivalry created by the rapid expansion of private clinics necessitates the professionalization of each unit, particularly to replace the conventional management and administration methods with an electronic environment.
Join DentalFlow, a product of NTQ Solution's Digital Transformation ecosystem for the healthcare industry, to learn more about the issues and solutions faced by clinics in Vietnam in the report: https://hanoitv.vn/ho-so-dien-tu-thay-doi-tat-yeu-trong-nha-khoa-v197962.html?fbclid=IwAR2qvxK1PagfKenxwuoBsmcl1CQ6gniM2FrrpHphH0gRSWNhvL0cG9Xw69w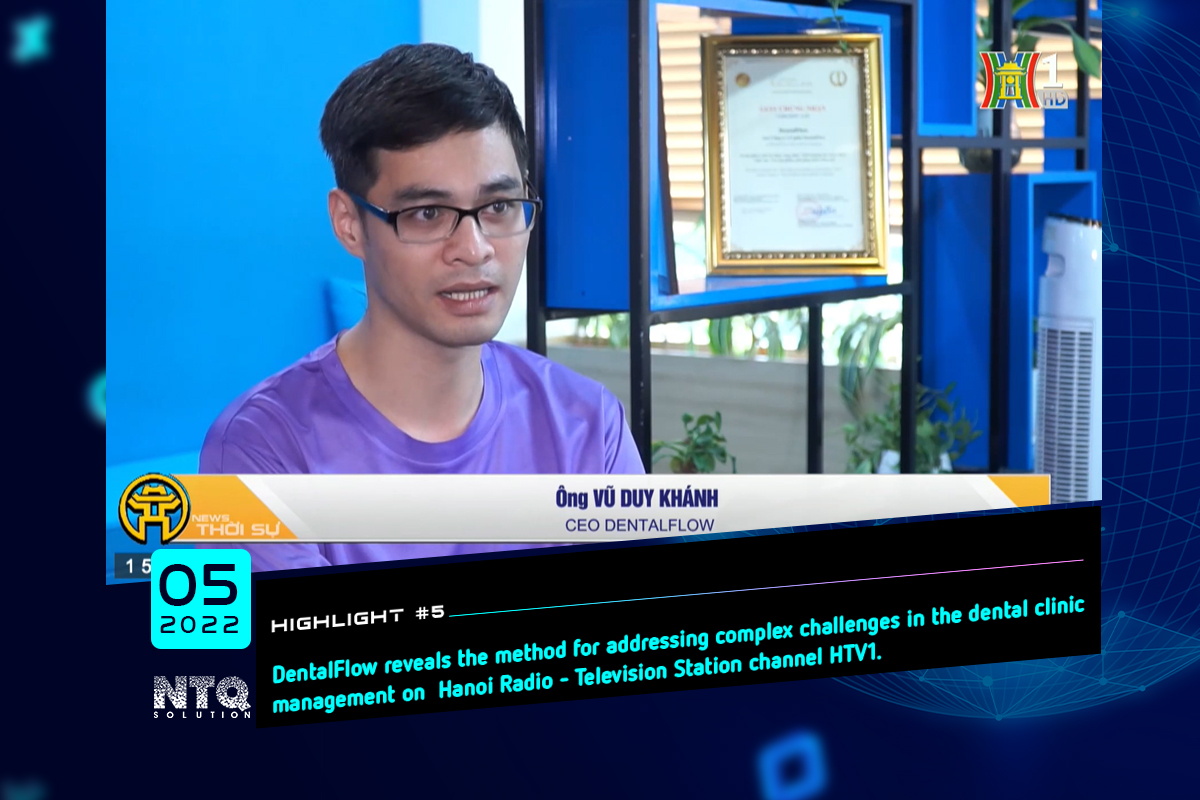 6. Shine1306 events - the most expected birthday event to celebrate NTQ Solution 11th.  
In June, NTQ Solution will celebrate its 11th year of establishment and development. With the theme SPEED UP - which is also the core spirit of NTQ Solution in 2022 - NTQ-ers are ready to welcome our new age with a variety of exciting activities.
All members of the NTQ Solution family are eager to join the SHINE1306. Let's join us to make this a memorable birthday season! We will continue to post information on each stage of the event so that everyone can follow it!
We are ready for SHINE1306!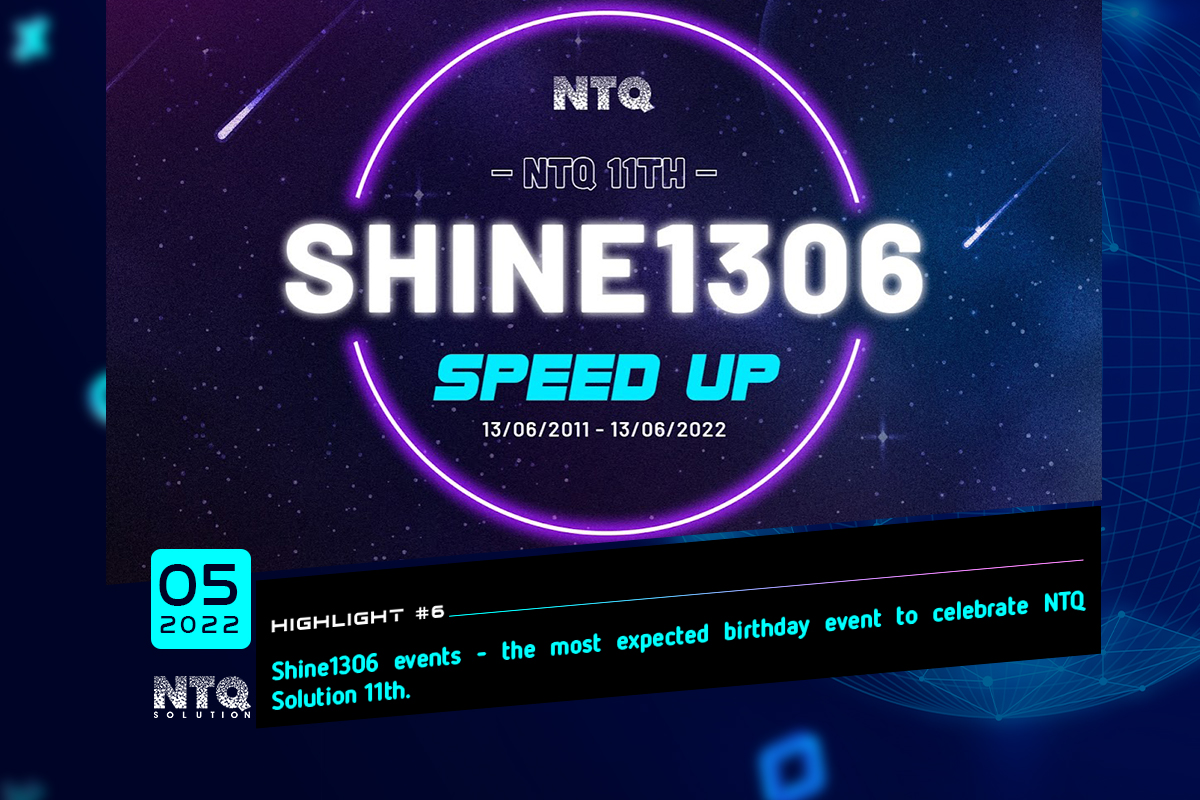 7. Solutions for IT resources in VietNam - shared by CEO Pham Thai Son at Vietnam-Asia DX Summit 2022. 
On May 25 & 26, the Vietnam - Asia DX Summit 2022 with the theme "Digital Transformation Synergy - Digital Economy Development" came successfully close after 2 days of the organization. At the seminar, Mr. Pham Thai Son, representing NTQ Solution, assessed Vietnam's IT people resources' current position, difficulties, and development potential. Many IT firms in Vietnam face obstacles such as a shortage of workers at high levels (concept, R&D, etc.), as well as retaining personnel who can participate in product manufacturing stages. Thereby, he shared training and management personnel solutions based on NTQ Solution's more than 11 years of experience.
NTQ Solution's priority is focusing on designing People Development Model, along with long-term personnel training programs. That is the key to help NTQ Solution quickly ahead and adapt to the world's trend and require cooperation from many partners around the world.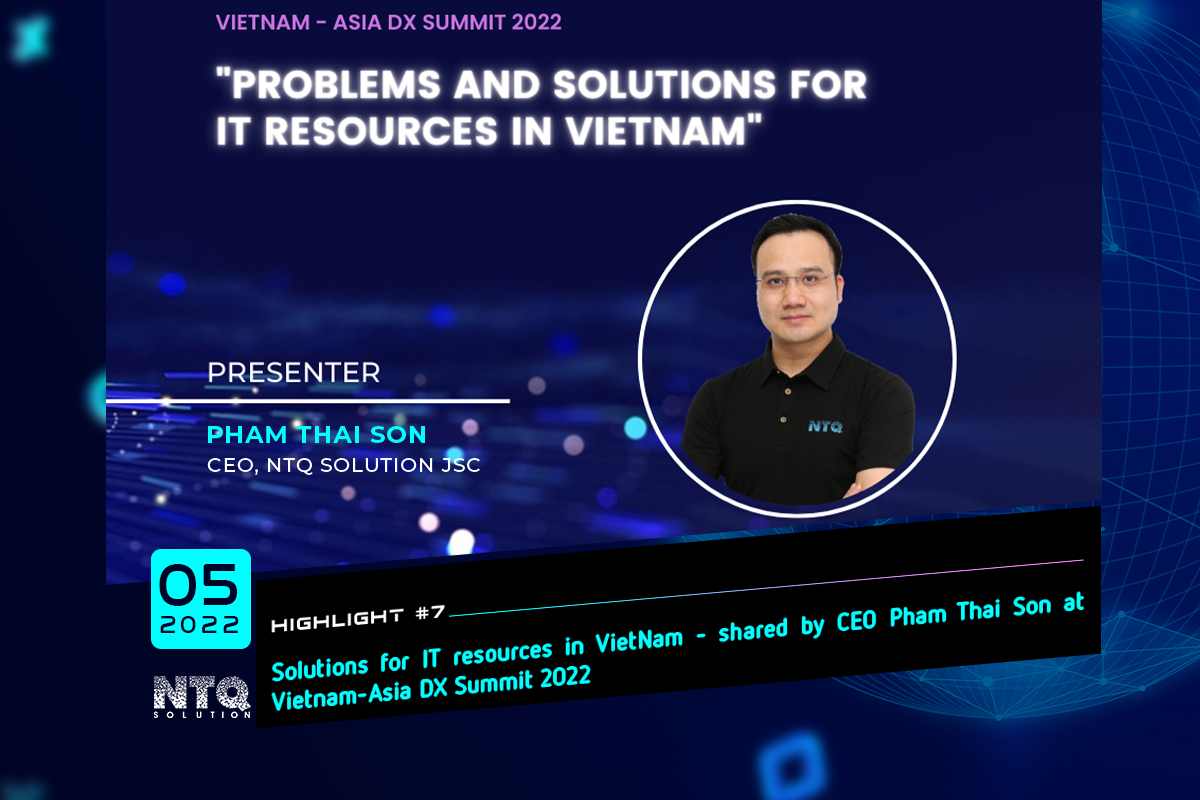 8. The 2022 N-League Men's Football Tournament at NTQ Solution final weekend countdown.
In response to the sporting spirit of Seagame 31, NTQ Solution hosted the N-LEAGUE 2022 Men's Football tournament in May, which featured six excellent teams from various departments. The football tournament returned with the delight and anticipation of a big number of NTQ-ers members after being postponed for two years owing to the Covid pandemic.
The large attendance of fans this year also helped to create an enthusiastic but equally tense atmosphere. Burn out to make this tournament exciting and memorable more than ever!
—--
The N-LEAGUE Men's Football Tournament is an annual event at NTQ Solution, with the goal of creating a movement of health training, stress reduction, and teamwork among NTQ-ers. The investment in sporting activities by NTQ Solution also symbolizes our effort to improve mental health, establish a professional working environment, and a balanced life-work.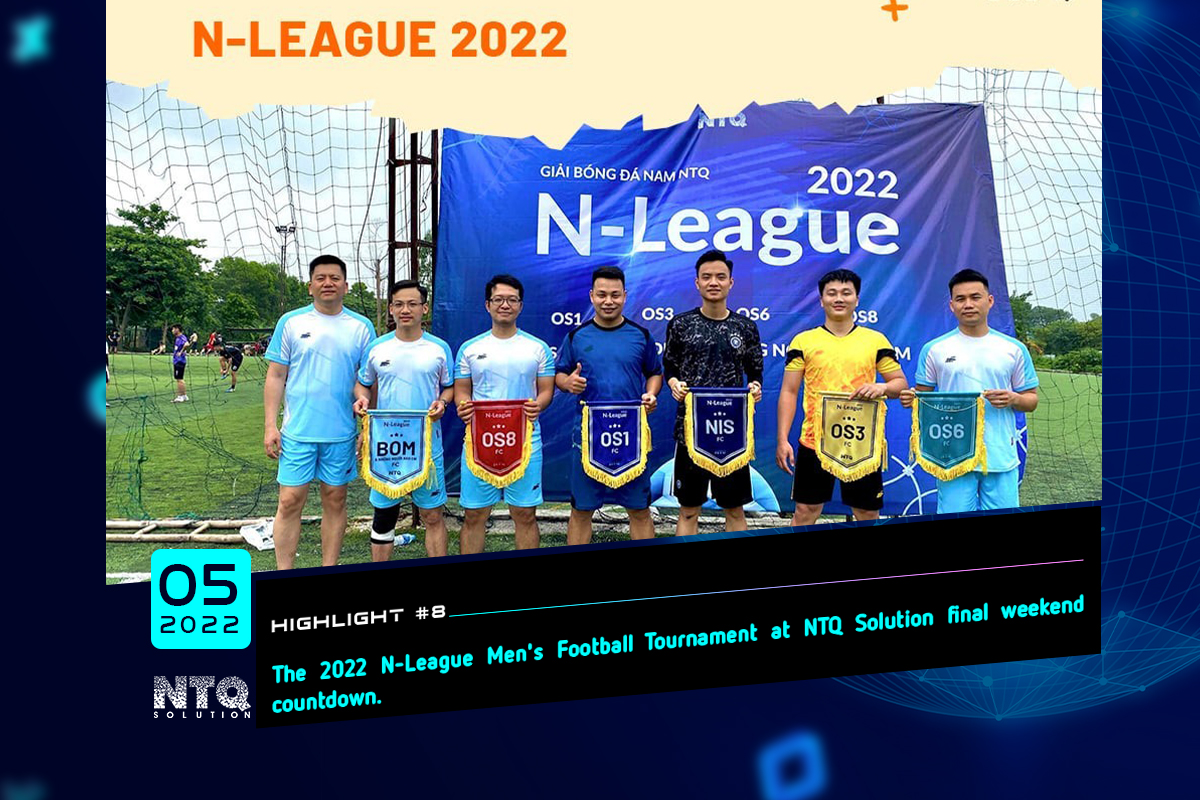 9. Moi be ghe choi - a special program for NTQ-ers' children. 
Caring for NTQ-ers, including their families and children, has long been an indispensable part of NTQ Solution's human resource development policies. On Sunday, May 29, a huge number of children and their parents, who are NTQers, participated in the program "MOI BE GHE CHOI" at NTQ Solution in celebration of International Children's Day on June 1. The NTQ children who took part in the event enjoyed a variety of theme games, including "Selecting surprising gifts", "My Skillful Baby", "Baby in the kitchen", and "Baby having fun" with a variety of exciting gifts and games. The children, in particular, were given the opportunity to see, experience, and learn about their parent's workplace.
The program MOI BE GHE CHOI allows NTQ Solution to demonstrate its love and caring for children of NTQ-ers while also providing opportunities for them to have fun at their parents' workplace. One of the happiest moments NTQ Solution had was when receiving so many thanks from parents, for providing their children with such a fun, gratifying, and unexpected day. Perhaps a day of playing and exploring at the parents' office will be a wonderful experience for NTQ's "little suns".
Thank you to all of the NTQer parents and children who helped to make this program such a successful and memorable event!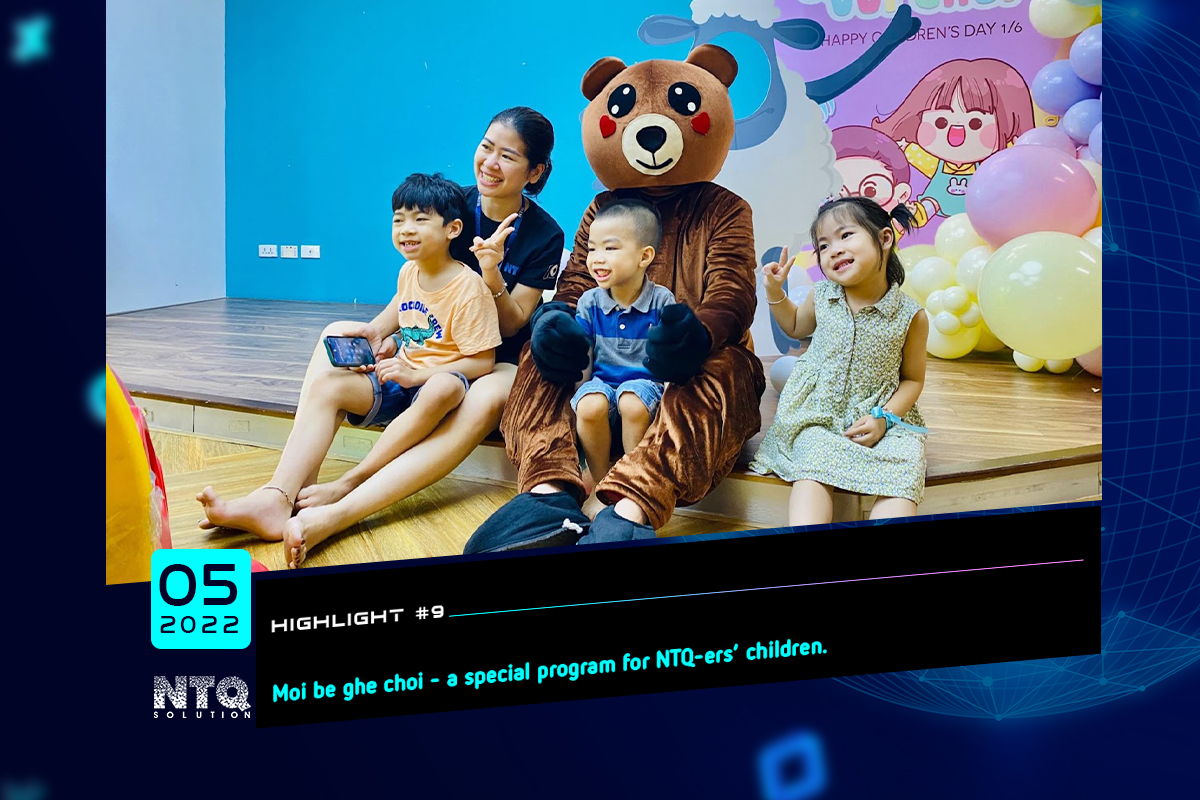 10. NTQ Solution is featured on Bizmatch Japan - shared about the  journey of paving the way to Japanese customers' hearts and its goal of "Leveraging Vietnamese people on the world digital map".
Even in the IT industry, Japan is considered as one of the most demanding markets in the world, with requirements for high quality standards. Since entering the Japanese market in 2016, NTQ Solution and NTQ Japan have established a strong presence and stable position, owing to their efforts to provide customers with international grade products/services that fully suit the client's digital transformation needs.
Learn more about NTQ Solution and our effort to break down boundaries and standards in order to win the hearts of Japanese customers at: https://vn-bizmatch.com/vietnamese-11/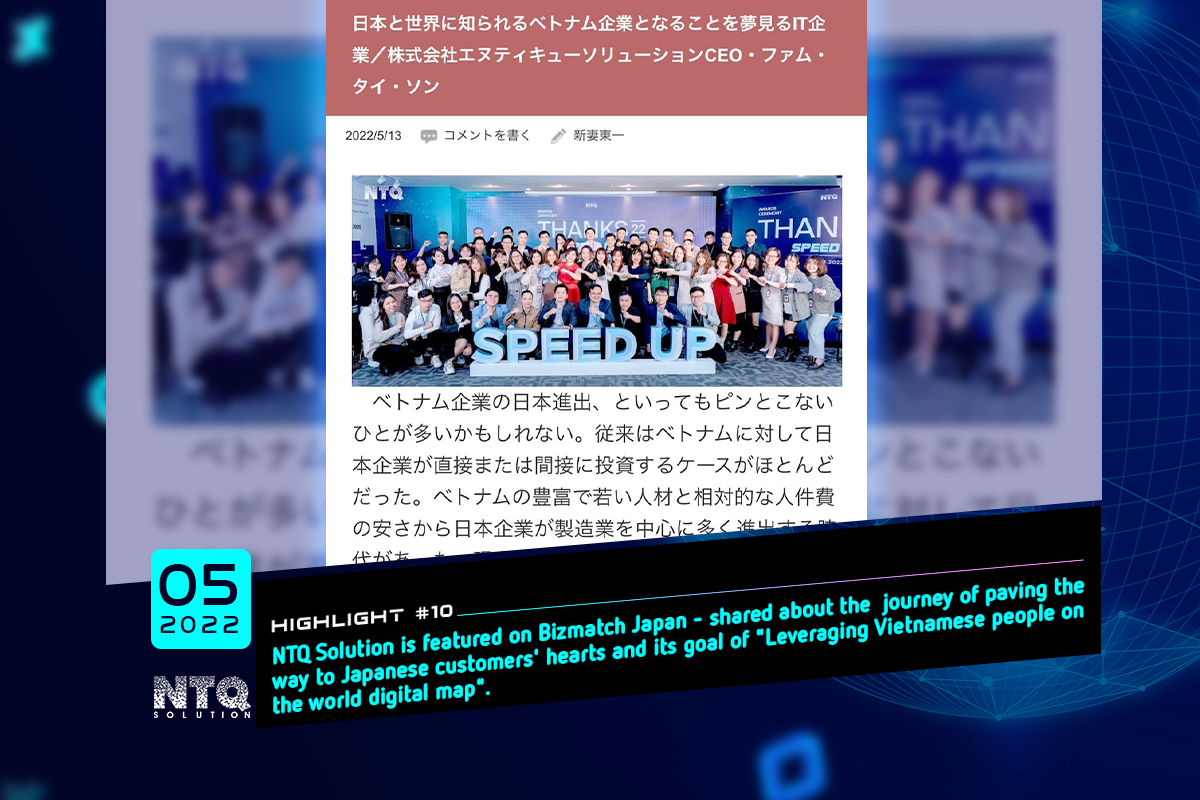 Looking for certified & experienced
developers
600+ experts

Flexible Engagement

NDA Protection

100% Satisfaction

24x7 Support
NEWSLETTERS SUBSCRIPTION
Get expert insights on digital transformation and event update straight to your inbox