The exciting month of April came to a close with a series of NTQ Solution strategic domestic and international events. Let's take a look back at the TOP 10 NTQ Solution outstanding events of April!
#𝟭. INTRODUCING BOTC DEPARTMENT - AN EXCLUSIVE CONSULTING MODEL ASSISTS ESTABLISHING BUSINESS IN VIETNAM WITH $0 INITIAL INVESTMENT.
Entry into the new market usually requires a huge start investment and has a big risk. Hence, if the business finds a local professional partner with in-depth market insight and strong resources, it can fully realize its idea with a minimum level of investment and risk. At NTQ, with our big resources and intensive experience in the IT/ICT Vietnamese market, we are ready to help you open an office/technology center or R&D center with 0 initial investment!
After testing and evaluating the feasibility of this service, the BOTC department officially launched on April 1, 2022. Our exclusive business model BOTC (Build - Operate - Take Care) was first launched in Vietnam, with the ability to provide comprehensive #consulting and #implementation solutions for foreign companies looking to establish a presence in Vietnam. The main mission of the BOTC department is to provide the needed consulting services, technology equipment, and human resources to assist customers in developing human resources and building branches in Vietnam, at the lowest possible cost and risk. BOTC - the latest revolutionary business model only at NTQ - is designed to support partner success and overcome pandemic barriers to adapt and thrive in the face of expanding business opportunities in Asia.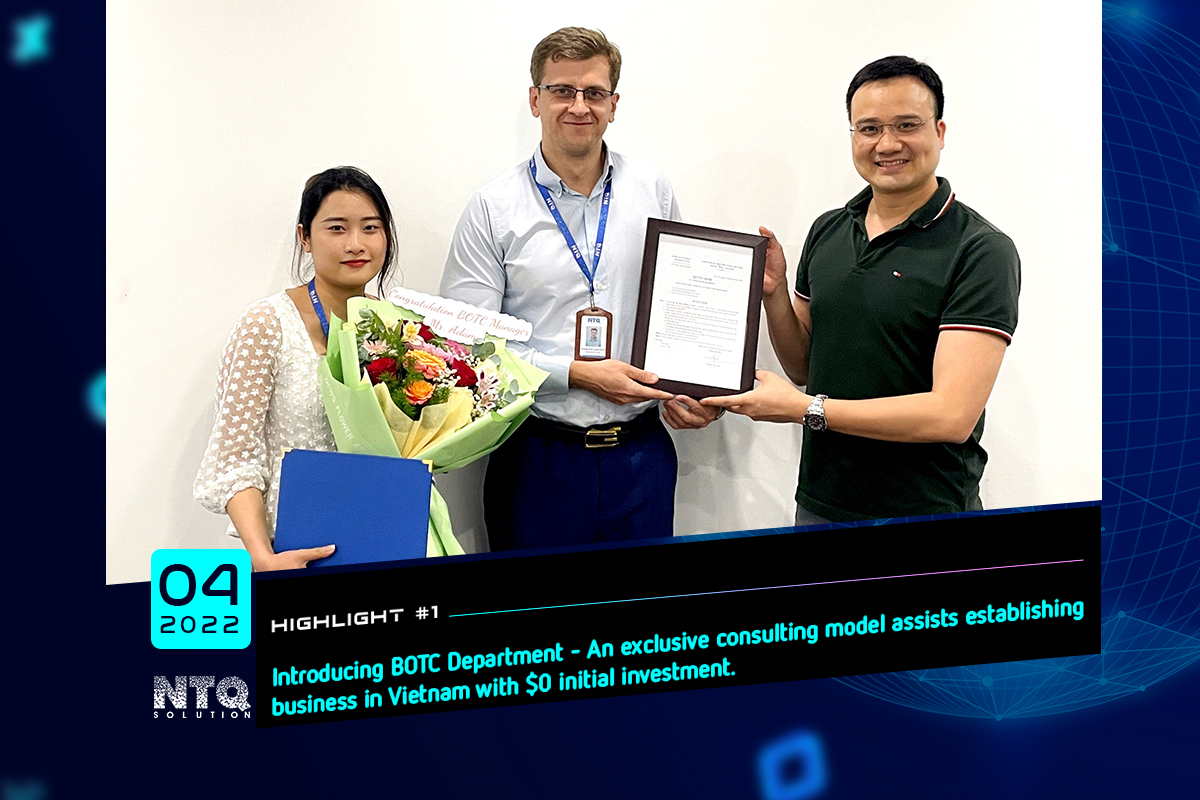 #𝟮. APPOINTING TWO NEW BU LEADERS - STRENGTHENING AND ENHANCING FUNCTIONAL POSITIONS IN THE NTQ'S OPERATING SYSTEM.
At NTQ, the BU (Business Unit) model - the model with highly decentralized operations from the Director with specialized departments in the unit - has been used to meet the rapidly increasing number of projects and personnel, optimize internal resources, and meet the expectations of each individual's development roadmap. In this model, BU Leaders will be responsible for the performance results of the BU they are in charge of based on the work assigned by the Director, reducing management effort for the Directors and freeing up time for the Director to deal with higher-level problems.
NTQ Solution has had 7 officially appointed BU Leaders responsible for each production center up to this point. With the addition of 2 new BU Leader positions, NTQ is expected to achieve breakthrough business results with each completed project at each Operating System center.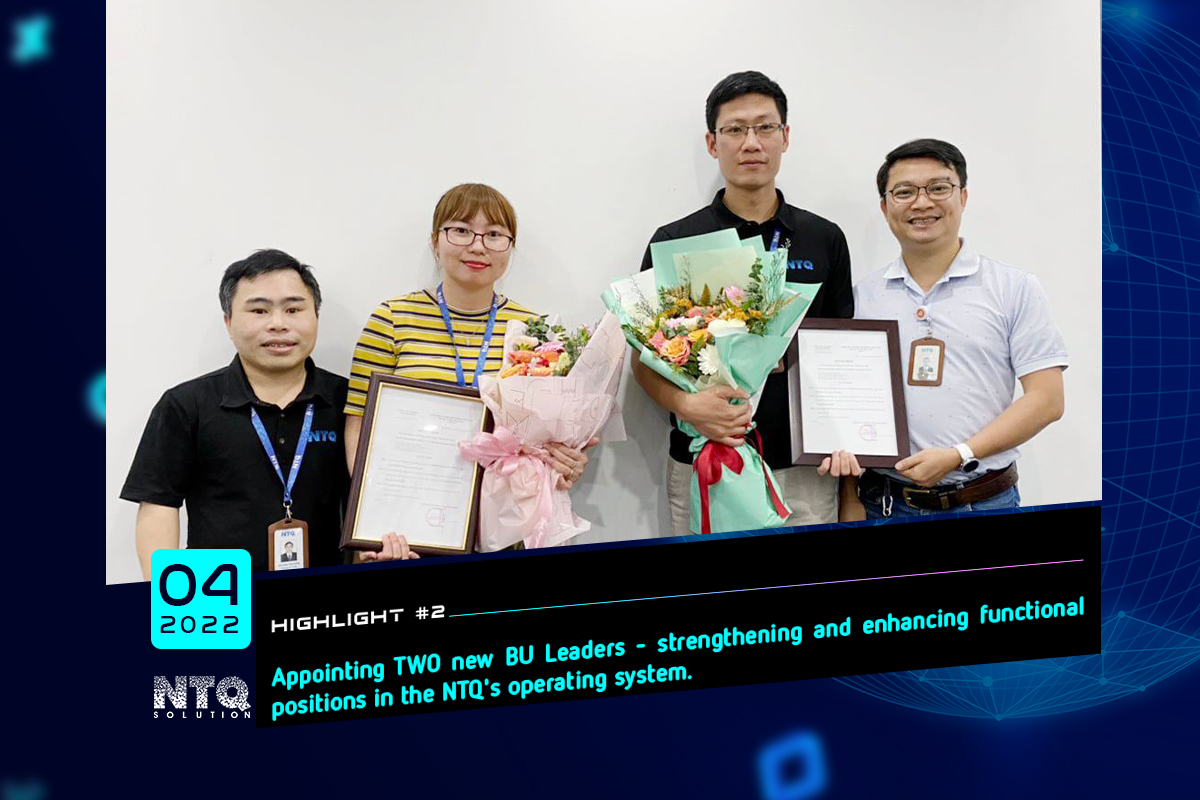 #𝟯. KICK OFF THE "CONSOLIDATING OUR ASPIRATION" PROGRAMS - A SPECIAL PROGRAM AT NTQ SOLUTION TO DEVELOP THE MANAGEMENT TEAM AND SUCCESSOR TEAM TO PLAN THE FUTURE.
Training, nurturing, and coaching leaders and successors are critical for NTQ's long-term growth and development. The "Consolidating our Aspiration" series of programs was built, targeting developing the Board of Directors and Managers first, aiming to strengthen the shared aspiration while also spreading that aspiration to all members to achieve our goal. The "Consolidating Our Aspiration" program series is one of the NTQ Solution's key programs in 2022, focusing on investment and development for the management/leadership team - who are and will be involved in the operation and management of NTQ Solution.
The program series began with "𝐂𝐗𝐎 𝐓𝐚𝐥𝐤 - 𝐍𝐡𝐚𝐭 𝐕𝐢𝐞𝐭 𝐃𝐚𝐨", which featured a special guest, Dr. Pham Dinh Doan - Chairman of Phu Thai Group - one of the pioneers who established the modern retail model in Vietnam, a well-known investor and consultant helping Vietnamese businesses competing with foreign countries. Thanks to the valuable advice of the speaker, along with the detailed sharing of Mr. Pham Thai Son - CEO of NTQ Solution - about the next 5 years of the company and the philosophy of "lifelong learning", the managers had a great time, lively exchange of goals, as well as ways of corporate governance.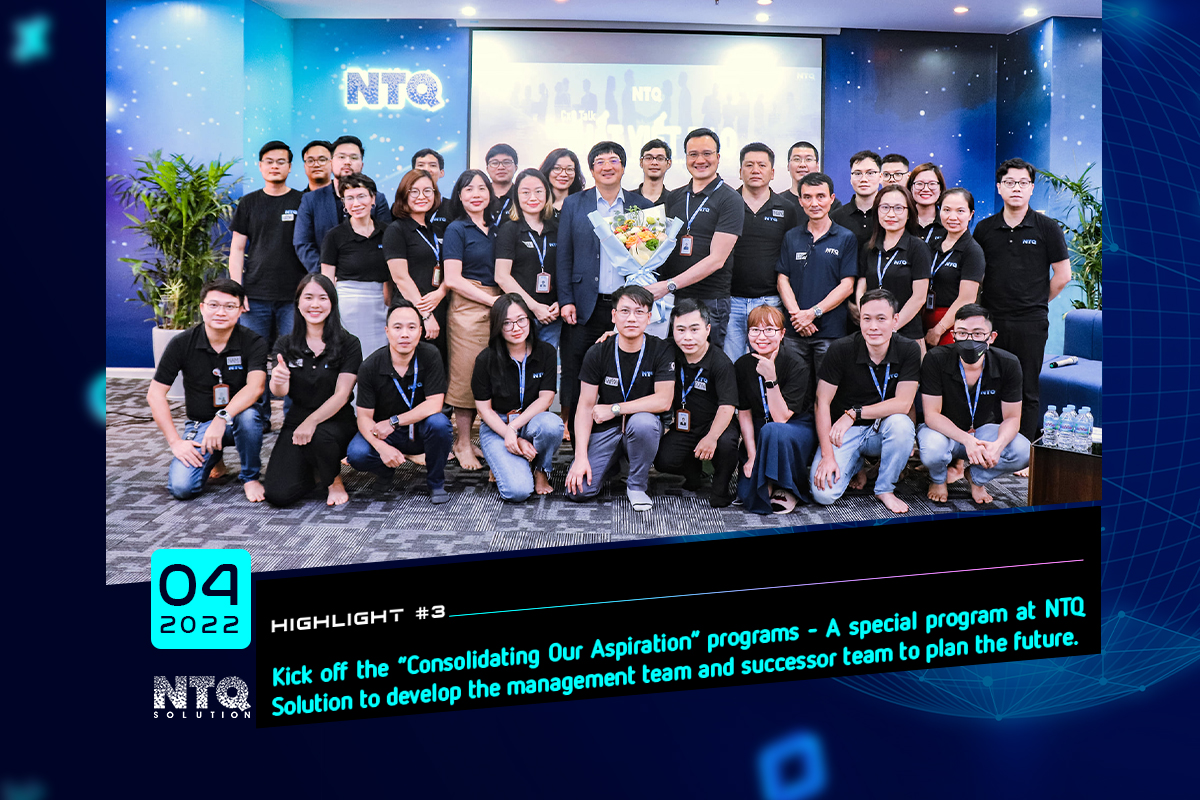 #𝟰. CONCENTRATING ON EMERGING TECHNOLOGIES IS THE KEY FACTOR TO NTQ SOLUTION'S SUCCESS IN THE BLOCKCHAIN TECHNOLOGY APPLICATION IN VIETNAM.
Blockchain is applied in many areas of life, including insurance, health care, education, banking, and finance, because of its superior benefits and features that promote transparency and accuracy. Besides its benefit, Blockchain is a challenge for Vietnamese IT enterprises, requiring them to have sufficient resources and infrastructure to apply and conquer this emerging technology.
In recent years, NTQ Solution has approached and implemented diverse emerging-tech integrated projects, such as AI and Blockchain. NTQ Solution has been researching, applying, and deploying Blockchain for many years to quickly catch up with the global trend and be ready to conquer the application of advanced technologies in Vietnam. At NTQ Solution, we have worked with leading Blockchain experts globally, organized Blockchain training courses, and applied in each simulation test project to improve the developer's professional knowledge. 
Concentrating on updating and developing advanced technologies, particularly Blockchain, to develop and perfect the model of products and services provided to customers is an important strategy in NTQ's third 5-year strategic goal, strengthening NTQ Solution's position in the international market and becoming a global SI company.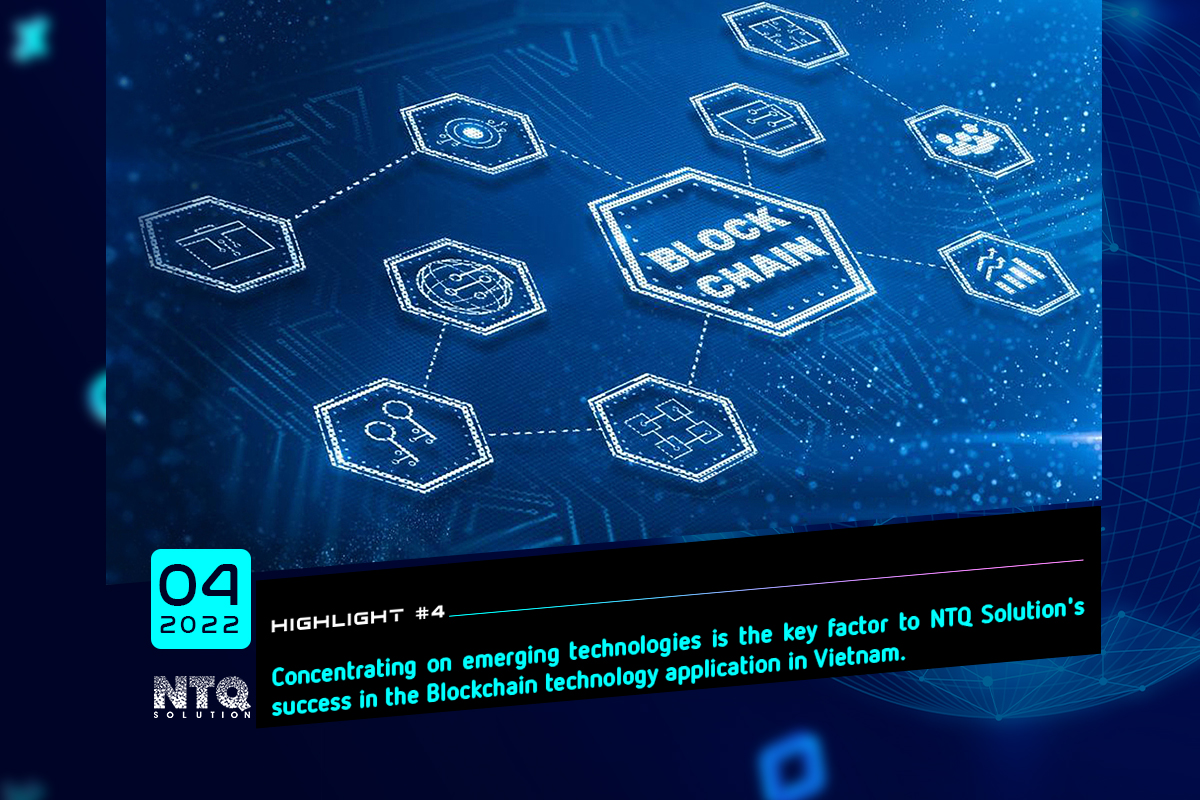 #𝟱. 𝗔PPLYING AI TECHNOLOGY, NTQ SOLUTION CREATES NEW BREAKTHROUGHS WITH THE LEADING TRANSPORTATION ASSOCIATION IN THE NORDIC MARKET.
In recent years, NTQ Solution has taken on a number of projects involving high-end and emerging technologies such as Blockchain, beacons, AI, and so on. Especially in the field of difficult technology like AI, NTQ Solution has research and application in a variety of large and small projects, resulting in a number of impressive accomplishments and positive feedback from clients.
Currently, NTQ Solution is processing a project with a significant customer who is a Global Association that accounts for the majority of world transportation. This is an AI application project in building a digital transformation system, helping users quickly and reduce risks when performing contract-related work. This project showcases NTQ AI's and NTQ Solution's strong capabilities and deep understanding of technologies to fulfill the diverse needs of customers from a variety of industries and markets. 
Concentrating on updating and developing advanced technologies, particularly Blockchain, to develop and perfect the model of products and services provided to customers is an important strategy in NTQ's third 5-year strategic goal, strengthening NTQ Solution's position in the international market and becoming a global SI company.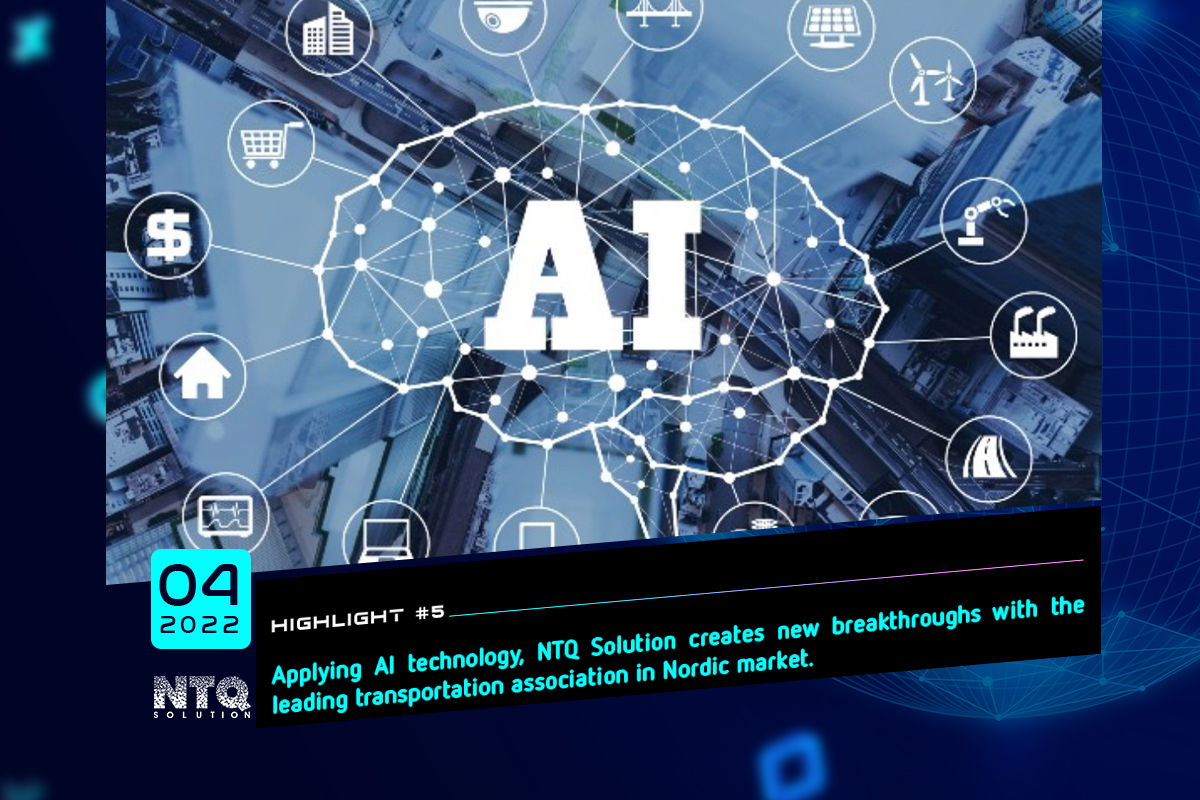 #𝟲. EZPLASTICS AND THE EXPORT JOURNEY OF TENS OF THOUSANDS OF "MADE IN VIETNAM' HARDWARE PRODUCTS TO JAPAN (HARDWARE & FIRMWARE)
Besides providing software services and products, NTQ Solution also invests in a unit named EZPlastics that specializes in supplying hardware product lines and in-depth research on new technologies. iLuton (Security Card) is EZPlastics' first product - a security card that locks and unlocks computers automatically, protecting data and personal devices from hackers' intrusion. Since its launch in the Japanese market in 2019, iLution has sold over 3000 sets and garnered a great deal of confidence and favorable feedback from customers.
EZPlastics also launched a number of spectacular, widely applicable products that were exported in significant quantities to international markets, including Workpecker (a product that supports smart helmets), E-Sensor & Solar Box (a cluster of energy-saving temperature sensors), etc. EZPlastics has sold over 3000 Workpecker sets and over 11000 E-Sensor & Solar Box sets to the Japanese market. With its present achievements, EZPlastics is certain that it will fulfill its aim of expanding the plastic mold production model and completing the product line this year, allowing NTQ Solution to dominate the market in many nations and areas.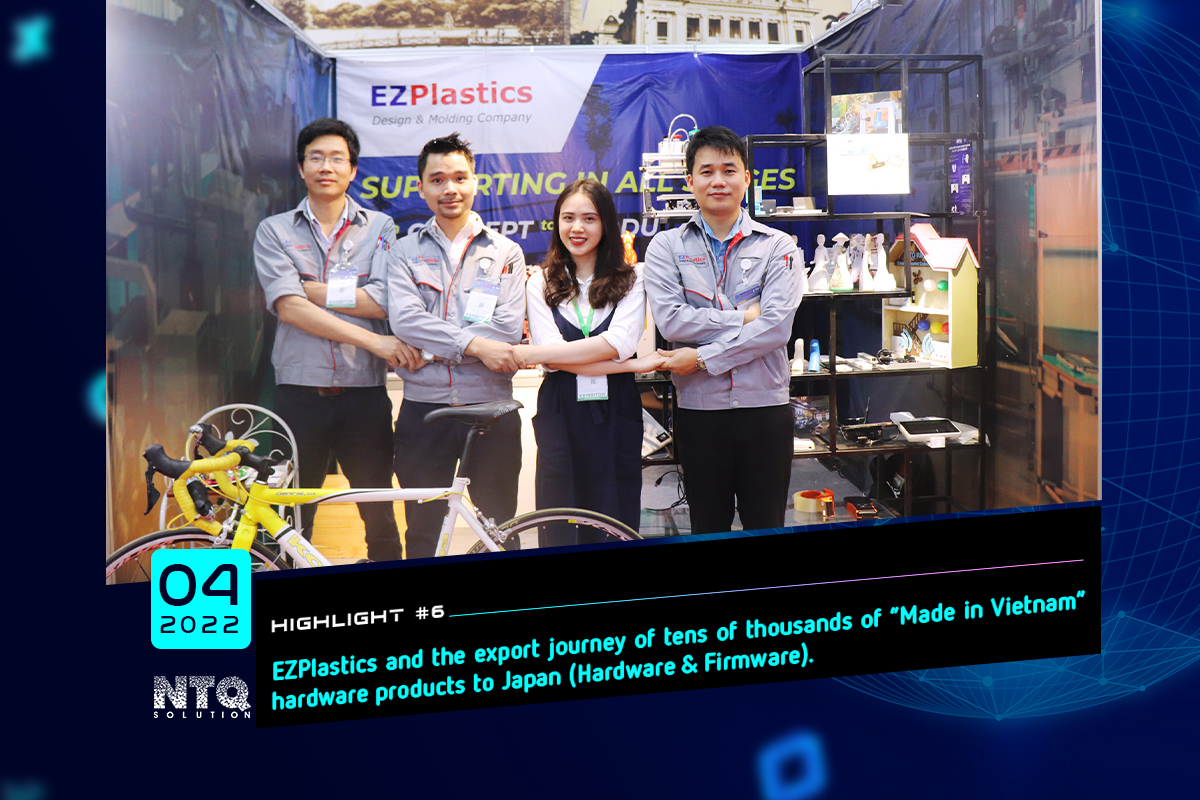 #𝟳. DENTALFLOW UPDATED A CRM 2.0 FEATURE TO ASSIST CLINICS IN ADDRESSING A CHALLENGING ISSUE: CUSTOMER RETENTION
Customers leave, clinics can't keep customers, or customers fall into the hands of competitors are all major problems that clinics face. As a result, DentalFlow has researched and updated CRM 2.0 (CRM Customer Relationship Management) - the feature which is the most accurate and automated intense patient care feature.
CRM 2.0 is designed to assist clinics in providing the best possible care to their customers: each customer will be looked after from the initial session through treatment plans and progress, payment, post-treatment concerns, and the archiving of their medical data. This is what distinguishes DentalFlow - with CRM 2.0 function - from other dental management software, with only the basic care or appointment reminders. Clinics will take care of their consumers in the most focused, intelligent, automated, and cost-effective way possible with DentalFlow and the upgraded CRM 2.0 functionality.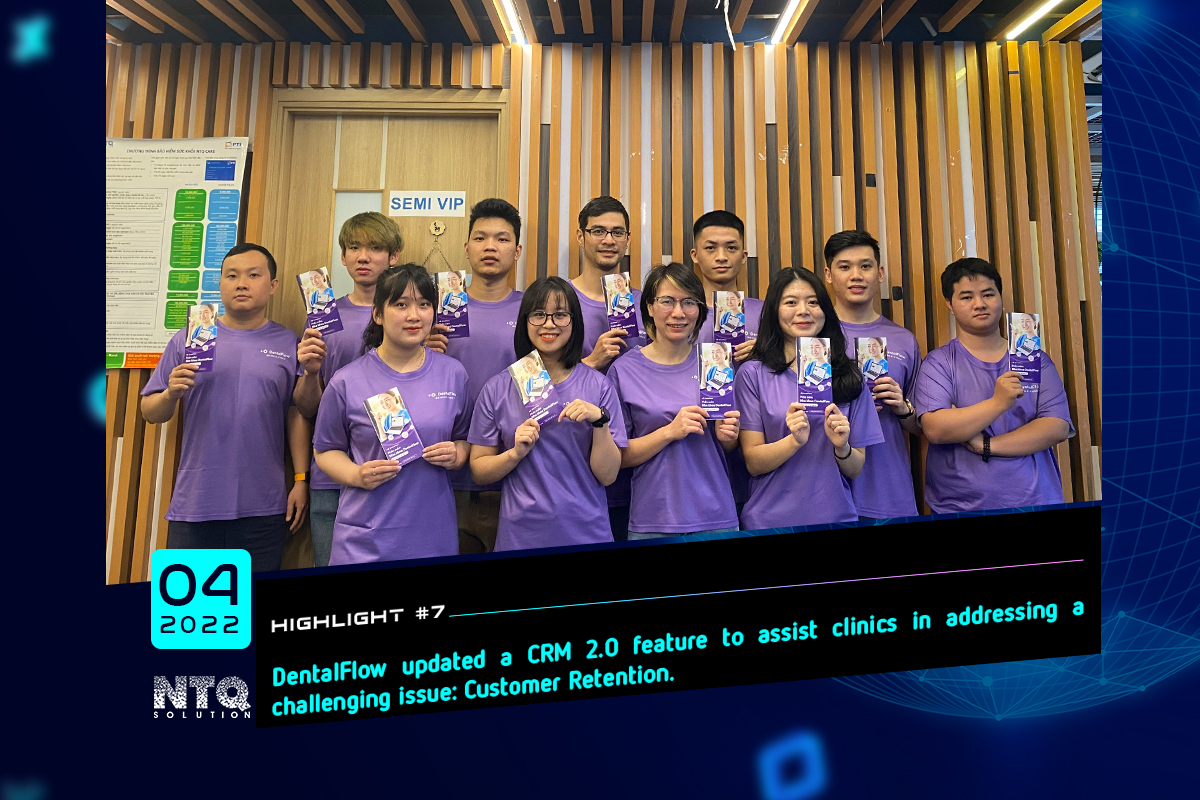 #𝟴. 𝗡𝗧𝗤 SOLUTION AND DENTALFLOW "WON BIG" IN THE "SAO KHUE" AWARD 2022.
On April 23, NTQ Solution and DentalFlow - a NTQ Solution's digital transformation solutions for dental clinics - were recognized to achieve the "Sao Khue 2022" award. This is NTQ Solution's 7th year in a row receiving this prestigious award. The Sao Khue award serves as a recognition and encouragement for the NTQ Solution and DentalFlow's excellent contributions to the development of Vietnam's IT industry over the last few years.
NTQ Solution has made significant contributions to Vietnam's IT development throughout the past 11 years of operation, striving to be a pioneer in developing the best "Make in Viet Nam" technological products and services on the market. In the next 5-year phase, NTQ Solution aspires to become a Global SI Service Provider with a wide range of emerging technology solutions and deliver "World-class" services. This will serve as a strong stepping stone for NTQ Solution to conquer the mission of "Leveraging Vietnamese people on the digital map", allowing it to take on new challenges, achieve greater success, and continue contributing to the IT industry.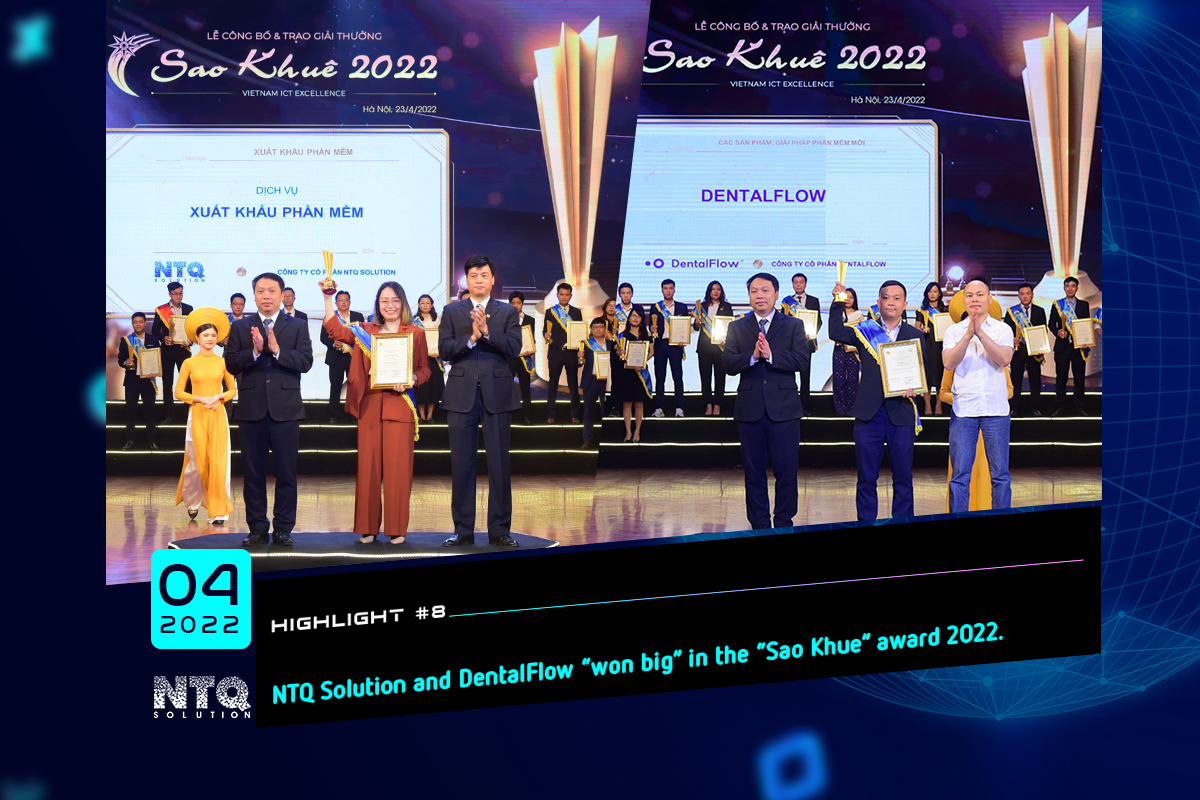 #9. "DOC THAN HOI'' PROGRAM - AN EXCLUSIVE CULTURAL EVENT FOR NTQ-ERS.
At NTQ Solution, the "human" factor is the center of all activities. Thus, NTQ Solution always gives the highest priority to improving the lives, aspirations, emotions, and feelings of the company's employees.
"Doc than hoi" Program is a special matchmaking service for NTQs who are still looking for love. Members will be partnered at random during the program and will go through three stages with the theme "Meet, Feel, and Step Closer" to identify "the right". After a series of special activities, the program ended with the successful pairing of 08 couples, and the emotional breakdown of the members watching the event. I Hope the couples have moments of relaxation and memorable memories after this program.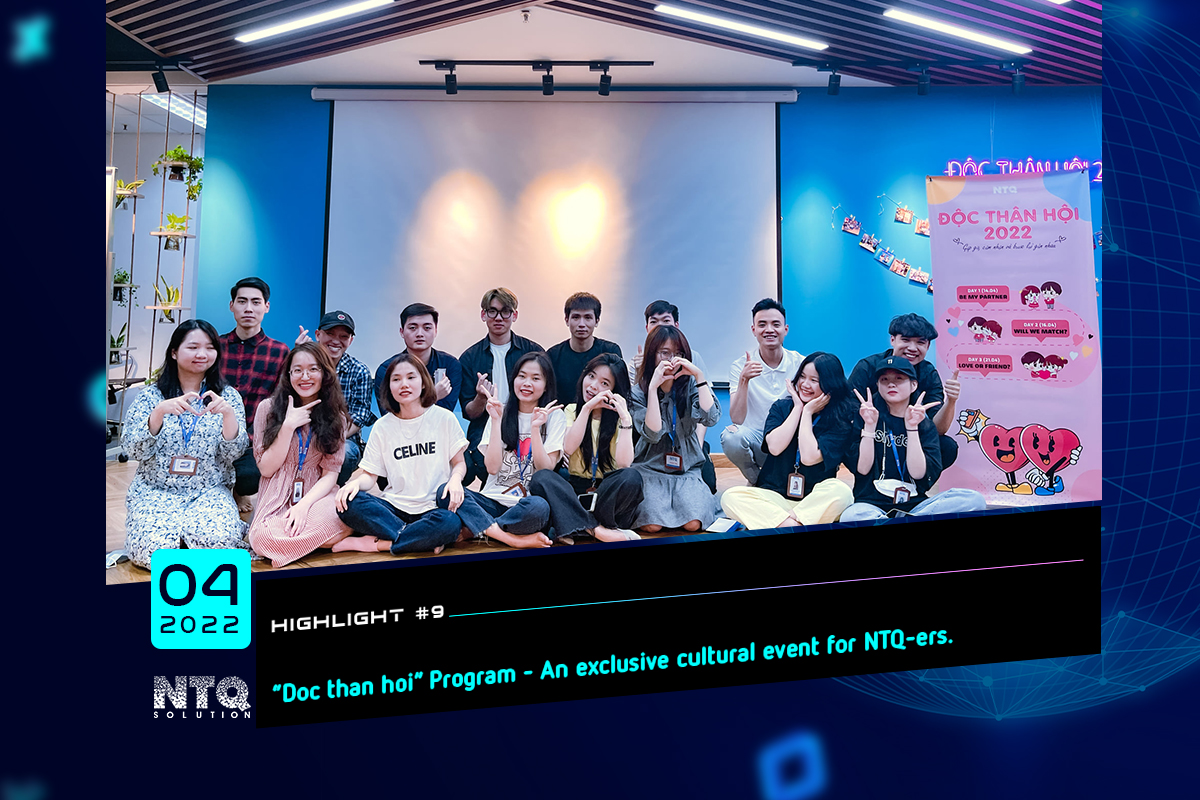 #9. LAUNCHING MYNTQ APP - NTQ SOLUTION'S EMPLOYEE ENGAGEMENT AND INTERNAL COMMUNICATION PLATFORM.
Internal communication has long been an important factor in the company culture-building process. An effective social intranet platform will help to develop corporate culture. As a result, the MyNTQ app was created with the following goals: Create an official communication channel in the organization to increase the transparency of the organization's information; Create a space for interaction, connection, information sharing, and communication between the Company, management, and members through the provided facilities.
Having started to deploy at the beginning of July 2021, currently, the MyNTQ application has finished the first version and is being deployed and utilized widely at NTQ Solution. MyNTQ is projected to contribute to innovation and improve the efficiency of NTQ Solution's information transmission to company members once it is operational, ensuring that employees grasp the communication messages, as well as increase the connection and cohesion across departments.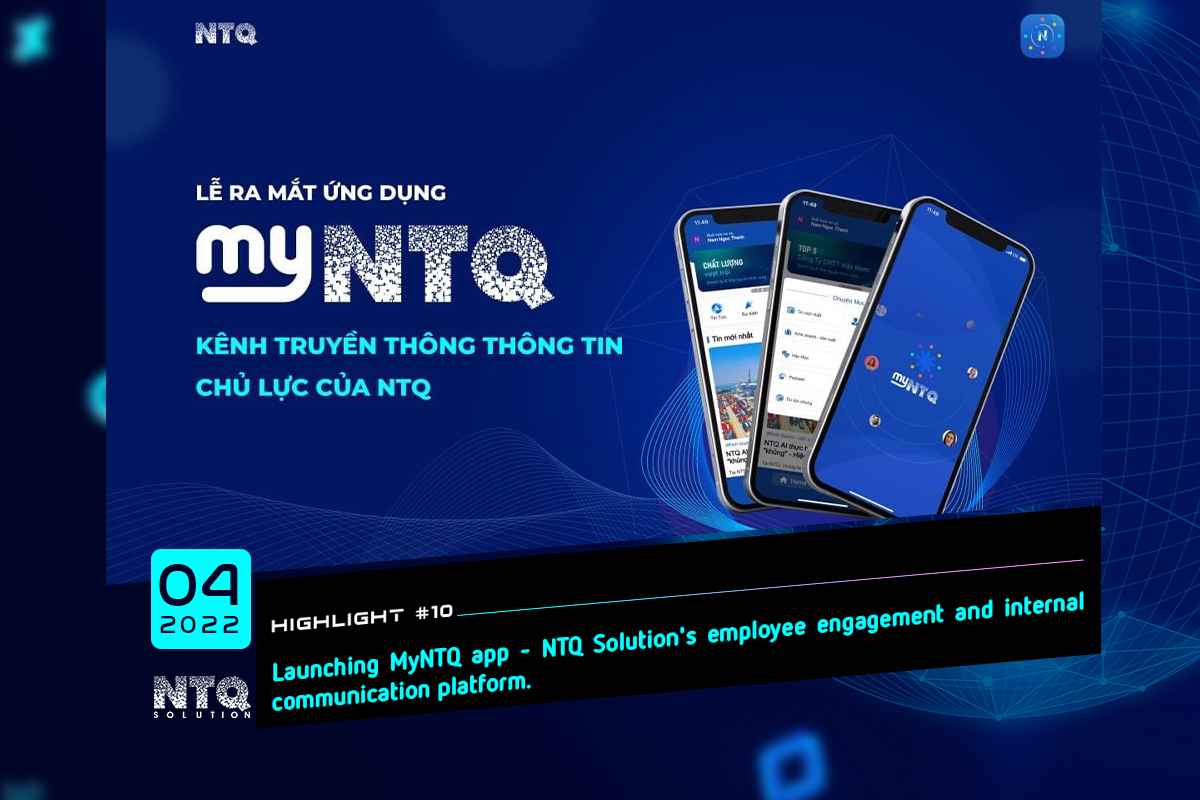 Below are the TOP 10 NTQ Solution outstanding events of April. Follow us on our Website and social media channels to be sure you don't miss any updates.
----
About us
NTQ Solution is a global IT consulting, services & solutions company that assists global SMEs & large enterprises worldwide to accelerate business performance and digital transformation. Since 2011, with in-depth experience in various industry domains from 600+ projects and expertise in a comprehensive technology stack, including emerging technology, NTQ's award-winning teams have been delivering "World-class" service for SMEs to large enterprises. 
If you're ready to improve productivity, increase revenue and clients satisfaction, get in touch with NTQ Solutions today!
Looking for certified & experienced
developers
600+ experts

Flexible Engagement

NDA Protection

100% Satisfaction

24x7 Support