On February 18, NTQ-ers donated 1000 cinnamon trees to Hoa Binh province to increase green cover over barren land, improve the livelihoods of rural farmers and provide a sustainable income for their families and communities.
Representatives to receive trees from Hoa Binh province included Mr. Ha Cong Duan - Vice Chairman of Thanh Son Commune People's Committee, and Mr. Vi Anh Quang - Deputy Head of the Forest Protection Department of Mai Chau district.
1000 cinnamon trees have been planted in the protected forest area of ​​the province. This area is strategically significant, with the main effects of protecting water sources, protecting soil, preventing erosion, landslides, flash floods, and pipe floods, limiting natural disasters, regulating climate, and contributing to environmental protection.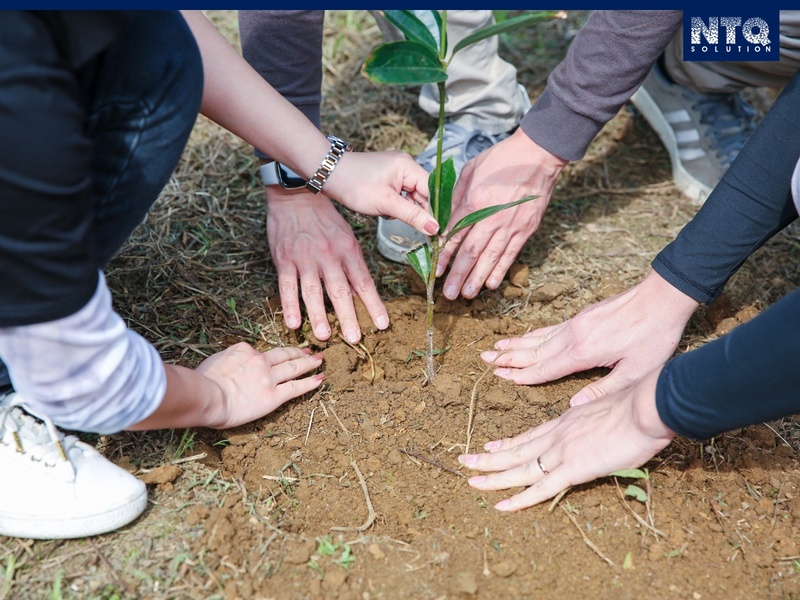 These small sprouts will grow into mature cinnamon trees after a few years, bringing many economic and environmental values ​​to the people.
With "Generosity to spread kindness" as one of the core values ​​on the company's development journey, NTQ Solution is always dedicated to taking its social responsibilities and aspires to contribute more good values ​​for the community.
By donating 1000 cinnamon trees - improving the livelihoods to the people of Thung Khe village (Hoa Binh province), NTQ Solution wishes to contribute to helping people here have a healthier, greener, and cleaner life and a better future.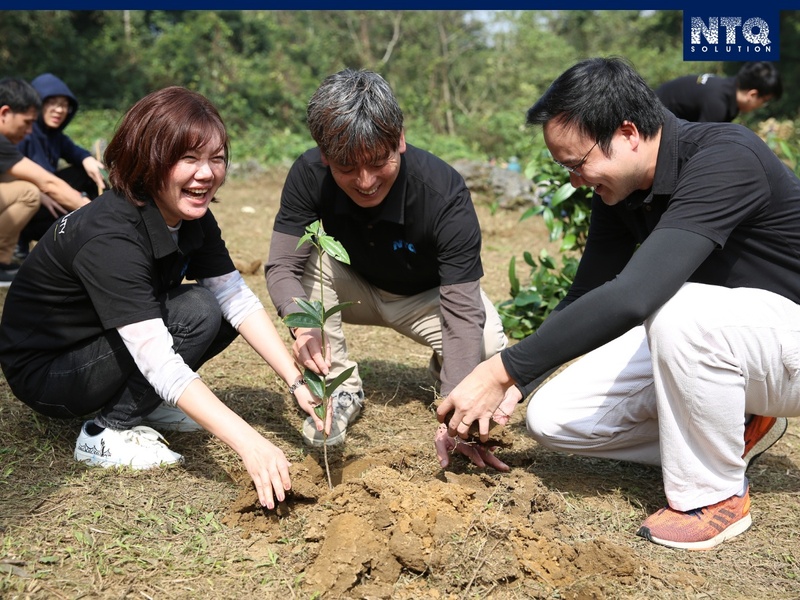 Ms. Ma To Binh - Director of NTQ Japan - said: "Participating in this meaningful activity has inspired me a lot to create more good values ​​for the community. As the representative of NTQ Japan, when I return to Japan, I will actively organize humanitarian activities like this for the members."
More specifically, 1000 cinnamon trees represent 1000 NTQ employees globally. Through this, NTQ Solution shares the story that every NTQ member is a tree that always strives to beautify life and contribute to society, but NTQ itself is also committed to trying to cultivate and create the best conditions for talent development. Those NTQ-ers are working harder and harder to contribute to building a stronger and more prosperous Vietnam.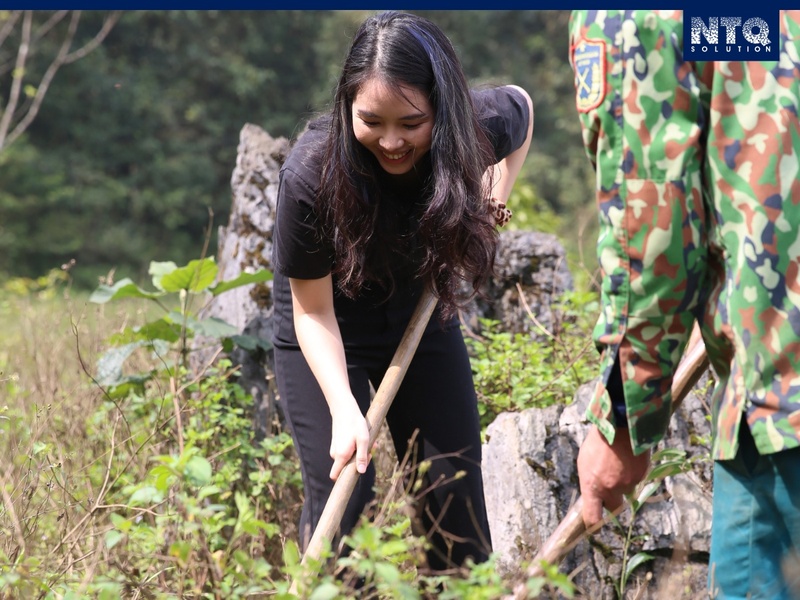 Ms. Nguyen Minh Trang - Head of Branding Department of NTQ Solution - is excited to be able to directly hoe the land, plant trees, and give livelihoods to Hoa Binh people.
Mr. Pham Thai Son, CEO of NTQ Solution, shared with emotion: "NTQ Solution carried out this meaningful event of giving 1000 trees, not only helping the country become greener day by day but also sending the message "planting people".
We believe implementing social responsibility is one of the most important responsibilities of a business. And the most sustainable value a company can create is to join hands to protect our living environment and train future generations with enough kindness and talent to contribute to the country's development. And NTQ Solution commits that we will always do our best to contribute to building a strong Vietnam, spreading kindness in society, not only by this event but also by many other humane activities".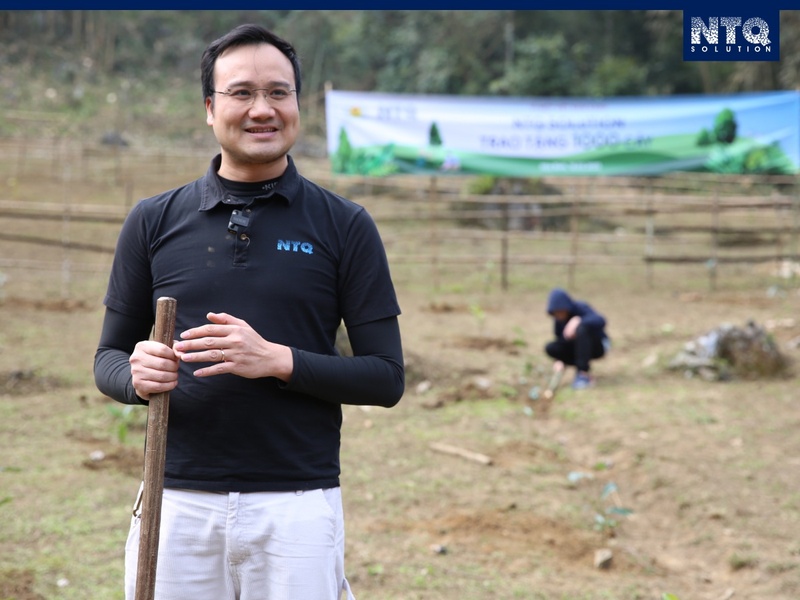 Mr. Pham Thai Son - CEO of NTQ Solution - emotionally shared about the event with the press agencies that came to report.
Joining in the tree donation and planting activities, Mr. Ishikawa - Director of NCJ, a subsidiary of NTQ Solution - also said that he was extremely proud to be able to attend this meaningful trip.
"We Japanese have a saying: One person can light up a small corner, but a group of people can light up a whole country. Being directly involved and deeply feeling the solidarity and generosity of NTQ Solution made me extremely moved. I believe that, with a fierce spirit and great actions, NTQ Solution will definitely go further on the way to conquering its goal: Developing a talented Vietnamese workforce to leverage Vietnam on the world digital map".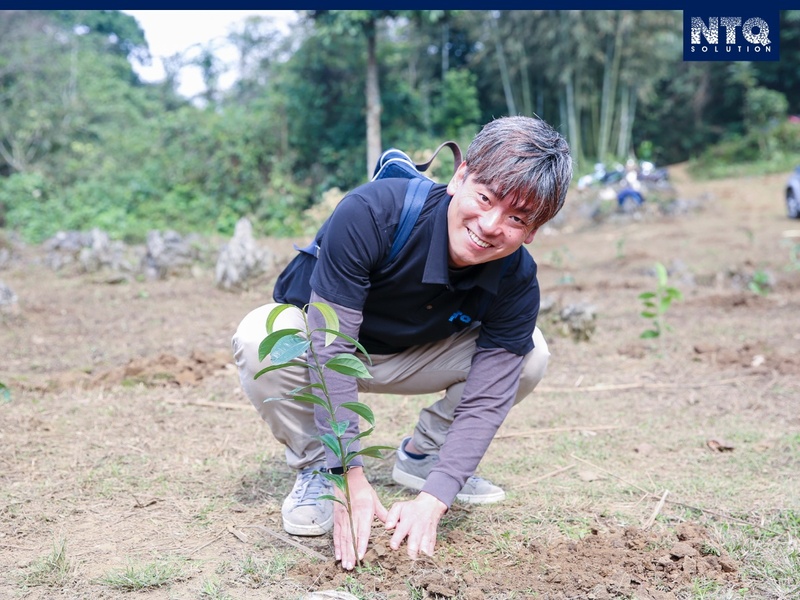 Mr. Ishikawa - Director of NCJ - said that this activity of planting trees for livelihoods is one of the most meaningful and impressive activities he has ever participated in in Vietnam.
Although NTQ Solution's tree donation journey has ended, the care and cultivation will still be carried out. The following NTQ Solution will coordinate with the Mai Chau Forest Protection Board to actively monitor and create the best conditions for today's cinnamon trees to grow strongly and steadily. Similarly, in the aspect of growing people, NTQ Solution is also implementing plans to develop the young generation of IT in Vietnam through cooperation with key universities and building practical training programs.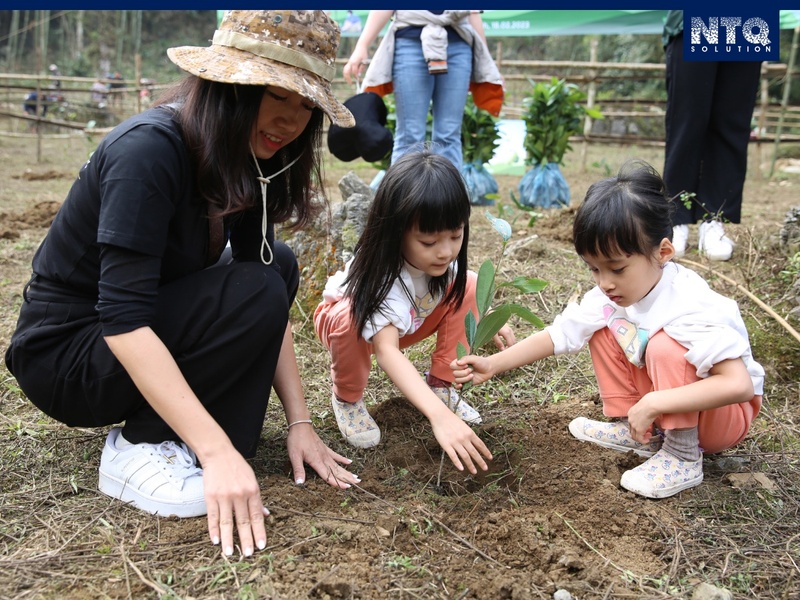 NTQ Solution always encourages employees to bring their families together to participate in these meaningful activities to increase solidarity and foster good human values ​​for the next generation.
Looking for certified & experienced
developers
600+ experts

Flexible Engagement

NDA Protection

100% Satisfaction

24x7 Support
NEWSLETTERS SUBSCRIPTION
Get expert insights on digital transformation and event update straight to your inbox