It is a share of Mr. Son Pham - CEO of NTQ Solution after NTQ was honored as one of the ten leading Vietnamese IT companies last September 10th. Beyond hundreds of technology companies, NTQ Solution is in the TOP 10 among other leading Vietnamese companies. We talked with him about the direction of NTQ Solution in the upcoming years.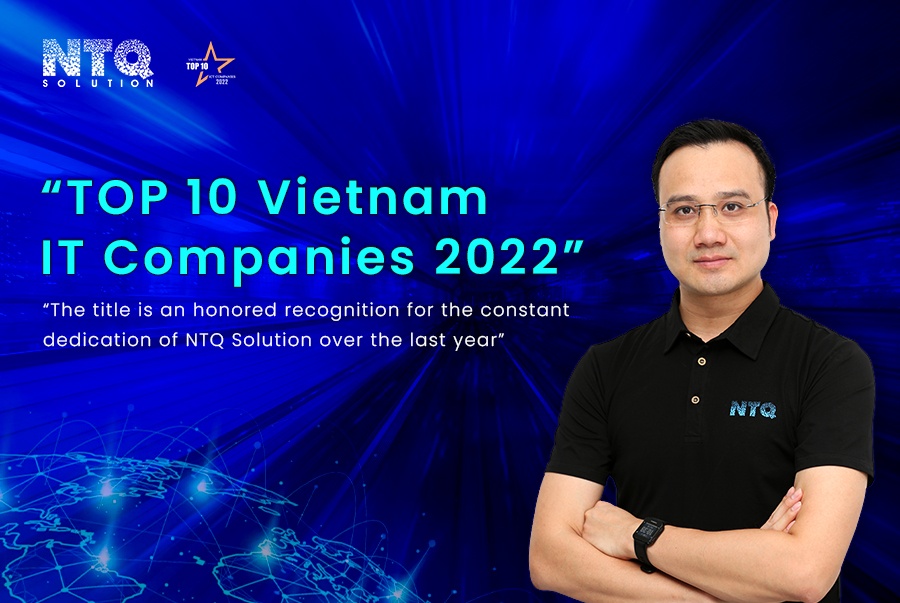 Q: What do you think about NTQ Solution again being honored as one of the ten leading IT companies in exporting software in Vietnam?
A: I am very proud and happy about this because NTQ has been in the TOP 10 IT companies in Vietnam in the exporting software field for two consecutive years. It is a crucial sector for Vietnamese technology, especially when the government sets a goal to make Vietnam a global technology powerhouse.
Besides, NTQ aims to be a global IT Service Provider; therefore, being honored with this award is crucial, marking a solid step for NTQ to achieve that goal. And this can not be done without the enthusiasm, and the continual innovation of every employee, striving for dedication to each and every product and service. I am happy about that.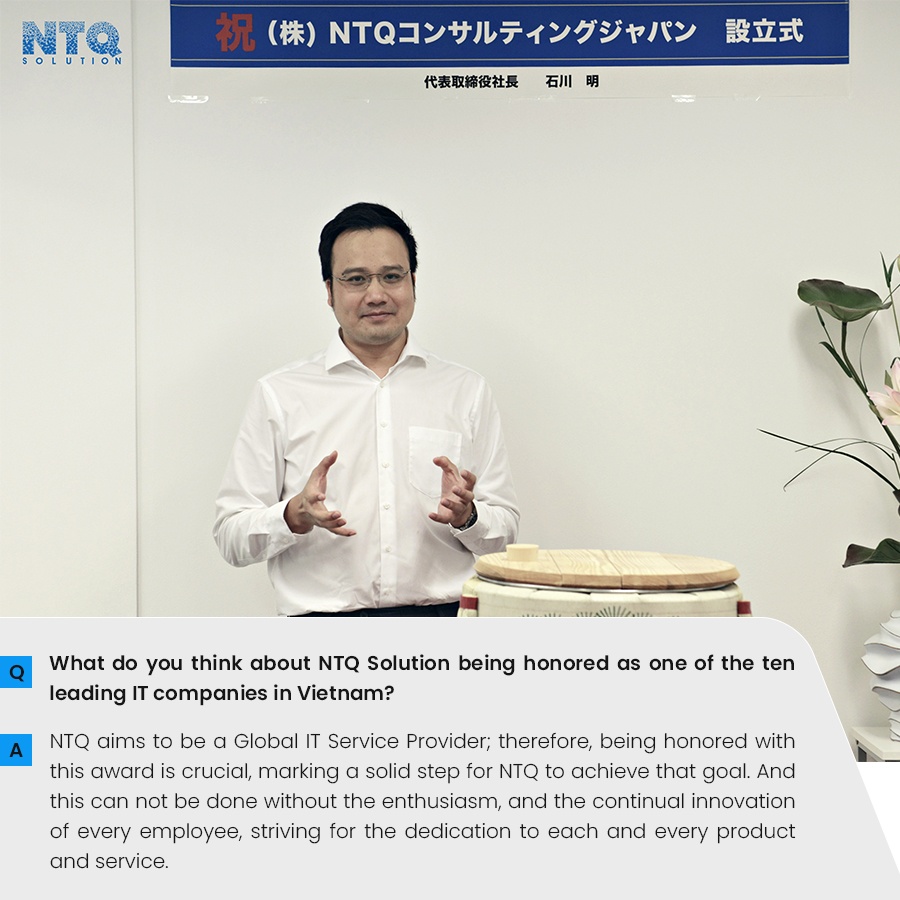 Q: What are the following directions and plans of NTQ Solution? 
A: In the short term, NTQ aims to thrive on 3000+ employees, establish at least 2 more international branches in Europe and U.S, increase sales to $100M, and be in the TOP 5 Vietnamese IT companies by 2027. To achieve this, NTQ is deploying five main strategies, including:
Globalize stronger, build worldwide BIZ and Delivery development branches and actively cooperate with leading companies worldwide in various sectors. 

Develop and strengthen "Make-in-NTQ" products and services, including software, hardware, and business solutions. Deliver consulting services about technology, and provide and integrate solutions for companies and institutions, especially in the markets where NTQ has branches.

Standardize and upgrade operating systems to deploy plans and operate branches, subsidiaries, members, and institutions of NTQ more efficiently, optimizing resources and costs.

Develop high-quality human resources that can adapt to the high growth speed of the company. Build high-speed development programs - "Talent acceleration program", a training academy - "NTQ Akademy", and policies and programs to train and appoint talents to managers.

Distribute capital more efficiently, including investing in experimenting technologies, investing in spectacular products or potential IT companies that are suitable for NTQ's ecosystem, or developing NTQ's products.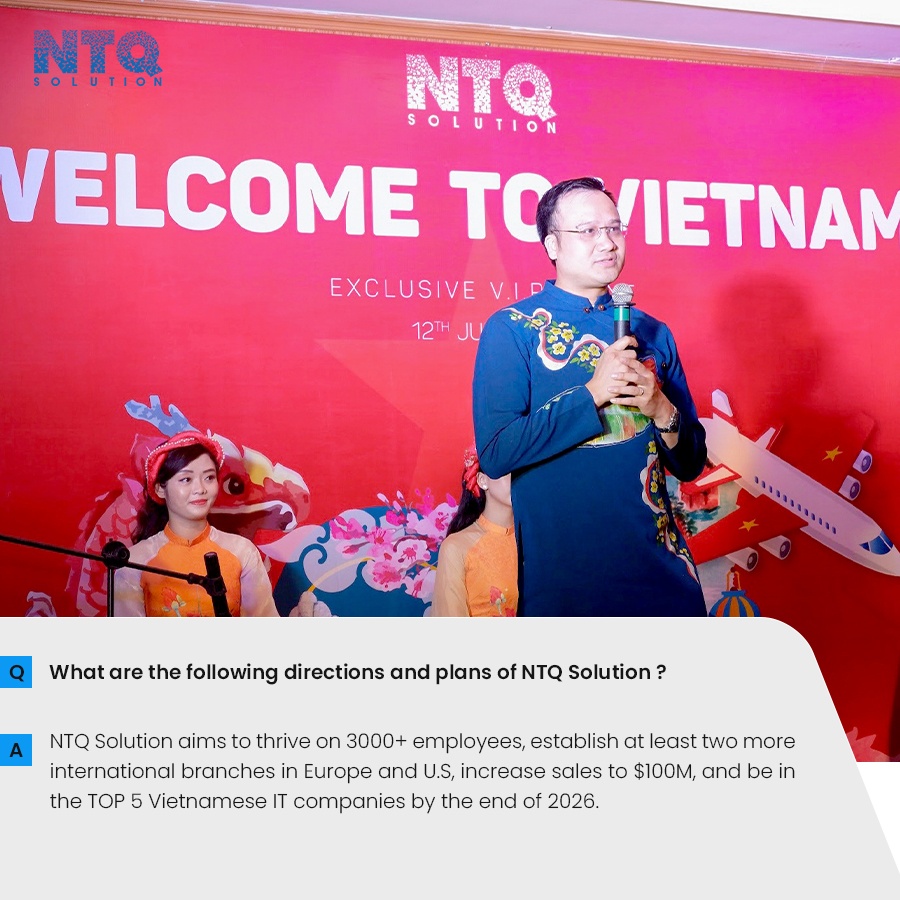 Q: Can you share in detail what NTQ Solution has prepared to achieve this goal?
A: Since early 2022, NTQ has executed six crucial plans in which the most critical missions are:
Product and Service Diversification

Excellent Operation (Productivity Improvement & Cost Optimization)

Developing human resources, including hiring and training well-experienced, highly skilled, and highly adaptable employees.
Moreover, this October, NTQ will implement one of the most essential activities of the year: market research to analyze and evaluate customers' demands accurately to create strategies and plans for the upcoming year in detail. It is our annual activity that the BOD considers the greatest, requiring the coordination of all our departments. We know that it is the best way to optimize productivity, distribute resources efficiently, and deliver the best values for customers.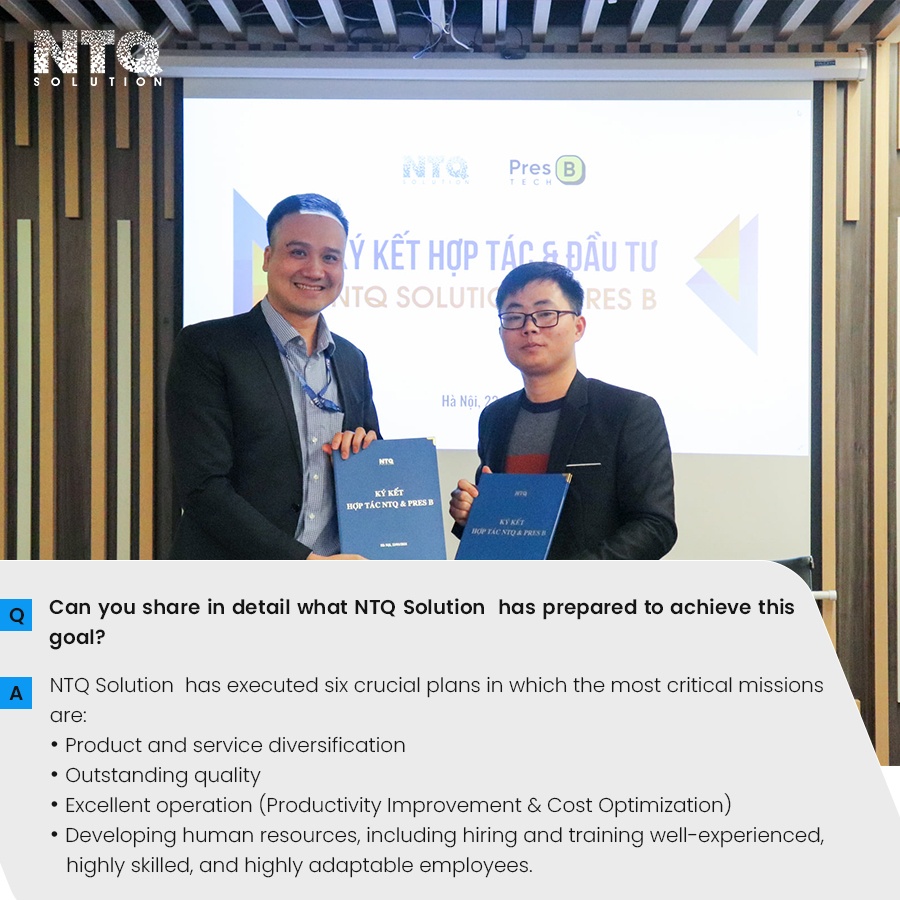 Thank you for your shares!
Looking for certified & experienced
developers
600+ experts

Flexible Engagement

NDA Protection

100% Satisfaction

24x7 Support
NEWSLETTERS SUBSCRIPTION
Get expert insights on digital transformation and event update straight to your inbox