Recently, NTQ Solution successfully signed a corporation contract with a big Japanese company working in the field of manufacturing management systems. Accordingly, NTQ Solution would build new features and upgrade the systems for the customer.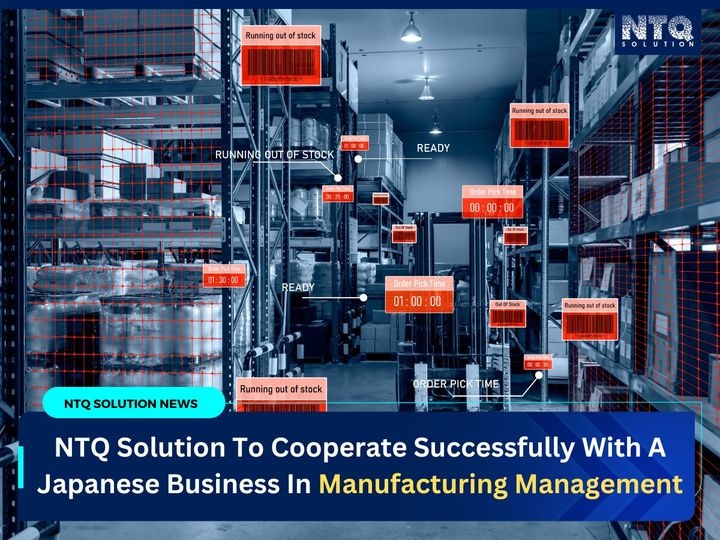 It is a large enterprise operating in the field of software development and sales, providing production management solutions for the manufacturing industry, with a charter capital of about 80 million yen. The company now serves nearly 400 customers across Japan, with the production management system as the core product. Therefore, they not only require high standards in the quality of the project but also require the newly updated features to run smoothly in any circumstances and be able to upgrade.
This is a challenging project thanks to the complication of a manufacturing management system, which must be able to collect, analyze, and process a massive amount of data in a minimal time with very high accuracy. Moreover, upgrading new features on the existing system is complicated due to the differences between new and old technologies, which causes some new technologies not to be able to run on the old platform.
With the development of a manufacturing management system as one of its strengths, NTQ Solution soon came up with a preliminary solution and a thorough implementation plan and won the customer's trust after only two weeks of discussion. In particular, the fact that NTQ Solution is developing a monitoring and management system for power stations has made a strong impression by its knowledge of the field as well as its professional capacity. Therefore, the customer quickly signed the first cooperation contract with NTQ Solution to implement the project until March 2023.  
This important event not only affirms NTQ Solution's capacity to provide superior technology solutions for international businesses but also a step forward to support NTQ in getting closer to its goal of extensive development in the Japanese market as the slogan 2023 "Beyond Global".
Looking for certified & experienced
developers
600+ experts

Flexible Engagement

NDA Protection

100% Satisfaction

24x7 Support
NEWSLETTERS SUBSCRIPTION
Get expert insights on digital transformation and event update straight to your inbox